LYNDON TOWNSHIP
ZONING BOARD OF APPEALS
PUBLIC HEARING, December 21, 2021 at 7:00PM
ZBA 2021-002
Owner:              Chris and Renee Turner
Location:          620 Oakdale Drive
Chelsea, MI 48118
Parcel ID:          TID E-05-34-100-016
Request:           Variance application to consider the construction of a new fence along the southeast property line (adjacent to 610 Oakdale Drive). The fence will be 6 feet tall and will extend for 160 feet to the edge of the water on long lake. This fence would need variances from Section 3.11 (C and E) of the code which only allow a 3-foot-tall fence that is 25% open to be in a yard that abuts a waterbody and the fence could only extend 20% of the distance between the waterbody and the home and could not be located within 60 feet of the ordinary high water mark of the waterbody.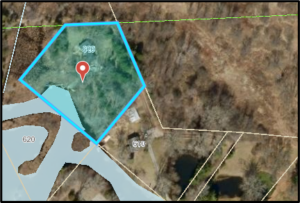 Written comments may be sent to: Lyndon Township Clerk, Linda Reilly, 17751 N. Territorial Road, Chelsea, MI  48118,  The Lyndon Township Board will provide, if time after the request allows, necessary and reasonable auxiliary aids or services to individuals with disabilities at the public hearing.  Individuals with disabilities requiring auxiliary aids or services should contact the Lyndon Township Board by writing or calling: Linda Reilly, Clerk, 17751 N. Territorial Road, Chelsea, MI 48118 or phone 734-475-2401.
A copy of this notice is on file in the Office of the Clerk.
LYNDON TOWNSHIP
Linda Reilly, Clerk
Publish:  December 1, 2021