High Speed Broadband Internet in Lyndon Township
In 2016, Lyndon Township residents began a community conversation on how to address the lack of access to reliable high-speed internet.   Weighing options and gathering community input at a series of town halls and meetings, these conversations resulted in a ballot measure in August of 2017 to build a fiber optic network reaching all households in the township. The Lyndon Township Implementation Committee has announced that the project is now complete.
Today, residents of Lyndon Township have high-speed broadband internet service that is vital to the education, health, safety, and quality of life of Lyndon residents.  This service makes it possible to close the "homework gap", promote professional development, enable lifelong learning, ensure access to information, telemedicine, and entertainment services, and provide connections to family and friends.
Each Property owner in Lyndon township is assessed 2.92 mils on the taxable value of their property to fund payment of the construction bond.  Additional fees will apply based on the level of service selected. 
If you are either an existing homeowner in Lyndon Township that does not have high-speed internet service and wants it, or you are building a new home in Lyndon Township and would like high-speed broadband internet service you need to contact MEC our Internet Service Provider.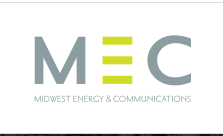 MEC is the Broadband Internet Service Provider for Lyndon Township,  Please contact them for questions related to:
Subscribing
Support
Billing 
https://www.teammidwest.com/internet/lyndon-township/
Telephone: 1-800-492-5989
There is an installation fee of $300 to bring service from the mainline to your residence. The fee must be paid in full before we can bring service to your house. If the requested service installation is for a new home construction the installation request should be submitted at least a month prior to the end of the construction project.